It's sick coming across all these different writers with dope handstyles – and with the power of the internet, it makes it super easy to connect myself with artists on the other side of the world. That's why it was ironic to find  that New York City native
Never
 had made his way onto Australian shores to spend time here in Melbourne. I'm not sure if it was his blog or his Instagram I had found first, but what I am sure of is his unique blend of New York graffiti handstyle, mixed with cursive and calligraphy styles – and it's dope. On top of that, I found out he has interests in other media, like video & photo editing. I was glad when he accepted my request to feature an interview about his handstyles, his time in Australia, and his upbringing in New York City.
---
What's your artist name/word, and where are you based?
I write Never aka Nest2. I'm a New Yorker who's currently based in Melbourne, Australia. The crews I'm associated with are IOD (Idolized or Despized/Institute of Dedication/In Out Done), KD (Kings Destroy), TNS (The Non Stoppers – RIP El3 & NESONE), IGW, RTL & CS.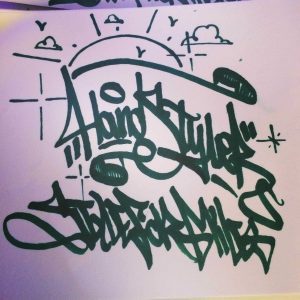 How long have you been writing for and what inspired you to start doing graffiti?
I got started doing graff in 2000 when I was in high school. I went to the high school of art and design which housed a crazy amount of talent thanks to the likes of Lady Pink, Mare 139, Taki 183 and many more.
You can say I didn't choose to write graff, it chose me. I was always surround by it, whether it was me seeing it while I was skateboarding around the city or when I was in school disobeying my photography teacher and developing graff flicks for the kids in school. I def had a mean hustle making money while I was school doing that and racking art supplies. Man the good old days.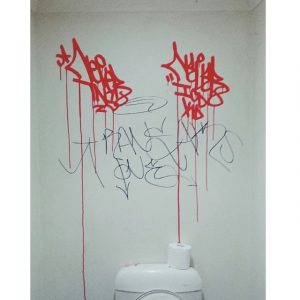 When did you start focusing on handstyles?
To be honest, it wasn't till I was kicked out of high school and had to spend time actually trying to survive in NYC that I started to just practice writing all sorta of words with different styles – if I had to put a specific date is say it must have been 2005.
What have been your inspirations on your handstyle, both inside and outside of graffiti?
Back when I had to juggle two jobs – one as a chef in this restaurant called Mini Thai Restaurant & as a delivery boy at Rocket Joe's Pizza (which both are still open for business in New York City) – every day I would be commuting to work and just keeping my eye out for particular styles and even regular type faces that really got my attention.
I would see type in magazines and I would study them over and over while on a lunch break or when I had down time to chill with my homies or whatever thing I was getting into – but honestly the world is my constant inspiration. I'm coming from the last generation of people that didn't have the internet – we had only printed media, TV and radio.
I still remember the only time over ever heard about 12oz Prophet was in 2008 – that's how disconnected I was. But now things like the internet have come full swing it's that much easier to pull inspiration for anything and everything.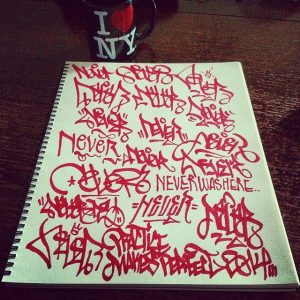 If you could only do tags with one tool for the rest of your life, what would it be, and why?
I'd always say a Rustoleum chrome can with a NYC fat cap: nothing catches your attention then a brolic fucking silver tag. It glows no matter what time of day it is, that's a real NYC staple. Fuck, thinking about it just makes me feel relaxed.
Within your city of New York, are there any other writers to look out for that have quality handstyles?
So many some of which I'm honored to be in the same crew with. ENJOI aka ENJOISM aka ENJOISKE IOD – this dude takes hand styles to another level, Minus CSF/ WATC, GIGS aka GIGSTAR CSF/IOD/WATC, my brother EVANER aka EVANS IOD, PART FX, OVIEONE FX/KED, DGONE NWC/KED, SLASH FTR, HEFNER SMART, BAONE IGW, SCAE NRG, ADER HAA/ATM, EWOKONE 5MH, PHAME 2DX/5MH, DESA MTA, GIZone MTA. And of course you can't talk about New York City hand style with out mentioning JAONE XTC.
Since moving to Melbourne, Australia, has anybody doing dope tags caught your eye?
The only ones that caught my attention are dudes like YUCS KSA, GRECO MR, LENCH MR, SINCH DB/MC (RIP), JETZ & PEEZOR AFP/AC/BTM.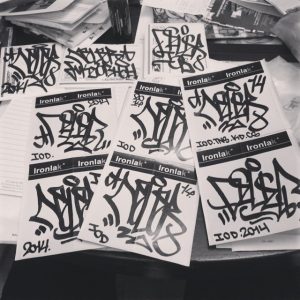 I've noticed you also dabble in some other artistic ventures outside of graffiti. Can you tell me more about that?
Thanks for noticing those things! I've been doing photography since about the same time I started writing graff. I have done it in the past as a freelancing professional, but that chasing work mentality started to outweigh my natural love for documenting everything.
I've always had my hands on something whether it be playing drums in bands or editing short films or video. I've always pushed myself to learn and keep learning new crafts – one minute I could be doodling tags over and over then later on I could be editing some videos or a digital reel of photos in Lightroom etc you get the ice.
I can't keep my mind or body simply still – I'm always pushing myself to create and to try new things.
Where can readers find more of your work online, and follow your progress?
My Instagram is @neveriod and my website – where I post some of my work, as well things that I find interesting – is www.theyneverstoodachance.com
What's one song you'd recommend everyone to listen to whilst checking out the rest of your stuff?
Eddie Hazel – I Want You (She's So Heavy)
Enough said
Any shout outs?
My brother EVANS!!! GIGS, MINUS, USEE, ADER, OVER, BEL & SUIMA, BLAST, DICE, YEAH (RIP), SEGE NVS, YUCS, INPAC, THE KSA BOYS, ARMED KSA, PREZ, PARIS, PERIL, TRATONE, JAMESTOP, NOC 167, RAFAEL SLIKS from São Paulo, SOUR RTL, DEN & SOE TNS, MECK KD, PIXOTE & SABIO TWD
---
Don't sleep on following more of Never's progress at his Instagram and his own website.
[column type="one-half" last="false" fade_animation="in-from-left" fade_animation_offset="45px"]
[/column][column type="one-half" last="true" fade_animation="in-from-right" fade_animation_offset="45px"] [/column]